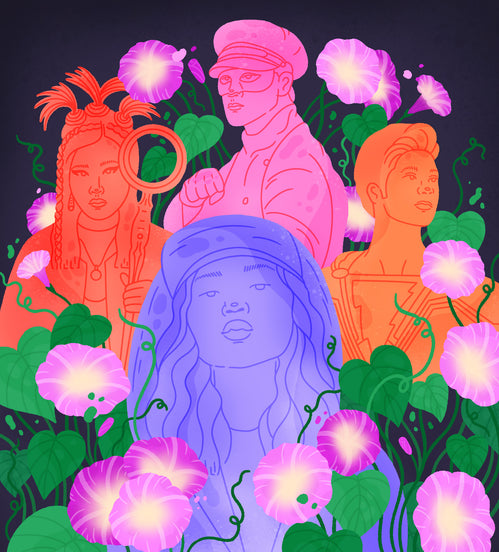 Featured Art of the Month
November, 2021
Asian Superheroes on Film
I'm a Vietnamese immigrant illustrator & designer currently based in Oklahoma City. I love telling stories with my work, specifically BIPOC stories and my own experiences of growing up in the US as a Vietnamese, immigrant, permanent resident raised in the south. At a time when Anti-Asian hate crimes are on the rise, to see ourselves within strong characters on screen gives us a sense that Asian identities belong here. The flowers the superheroes are drawn among are Morning Glories, a plant that establishes itself in any sunny vertical position, a great reminder that we will always take root and continue to grow.
Previously Featured Artwork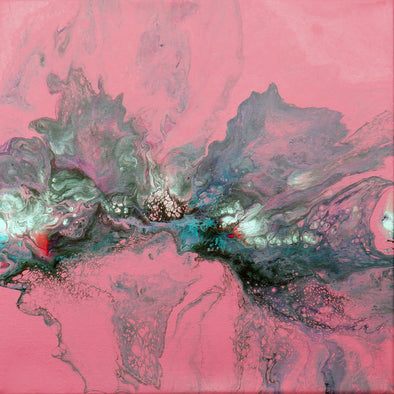 August, 2021
Pink Butterfly
My name is Ashley. I am a paint pouring artist from Montreal, Quebec, Canada. This piece is called 'Pink Butterfly'. It resembles a butterfly and/or a river as seen from the world above. I love how the pink allows the metallics to really pop off the canvas, making it glisten in the light I discovered this talent during Covid and absolutely love doing it. I would love to make it my career! I do customized paintings and also sell the ones I make.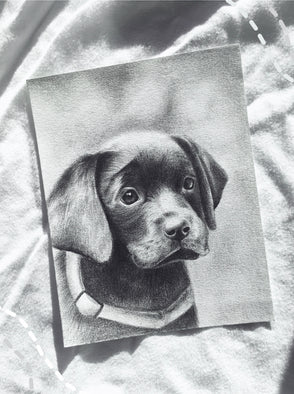 July, 2021
Puppy Dog Eyes



Hi, I'm Christel, a young artist from British Columbia, Canada. I love realism but I always experiment with different art styles as well. I've been drawing and painting for as long as I can remember and it never gets old. I find inspiration in people, animals, and life around me. I also love capturing special moments and the beauty of life.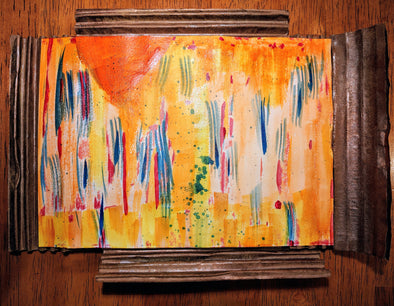 June, 2021
Untitled
I'm Pamir Kiciman and hail from Chapel Hill, North Carolina very recently, and South Florida before that. I make folksy arts and crafts that are also infused with healing Reiki. Being a Reiki Teacher and Healer was/is my main gig for 25 years. I'm a self-taught artist who began in earnest during quarantine in 2020. A lifelong photographer, I've made art before, but this time it feels like a calling.Most of my art is made from upcycled consumer waste and packing materials and includes paintings, photos, found and natural objects too. The watercolor seen here ended up being a gift to my son. I mount paintings on material I prepare myself. In this case the corrugated cardboard was wrapped around glass bottles of organic hand sanitizer. It was already recycled material, then I made art out of it. This is an optimistic painting made at the end of March 2020, right in the middle of the pandemic. Made in isolation, it has flashes of a way forward and there's hope and brightness.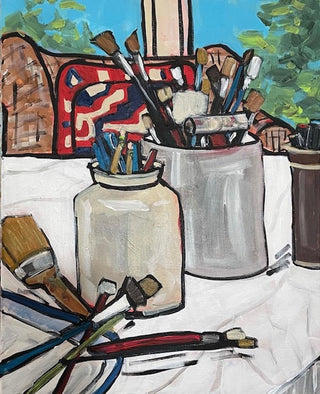 May, 2021
Studio
I am a Canadian artist, working in Acrylics.My art subjects are varied:  animals, tablescapes, rural scenes, snapshots of home, and colourful abstracts.This piece is entitled "Studio". It features our sunroom, where I paint in the summer; a rattan chair,  and my collection of paint brushes in antique crocks.I enjoy painting as a release and as a means of channeling my creative energies.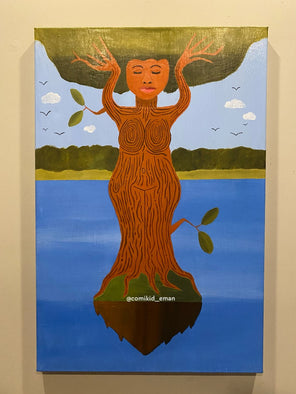 April 18th- April 24th, 2021
Grounded by Earth, Covered by Nature.
Comikid E-Man is a digital and traditional artist based out of New York. He uses a mix of surrealism, comic book and pop to convey his work. The biggest influences on him include the late Stan Lee, Rene Magritte, Roy Lichtenstein, Mark Kostabi, and Keith Haring. His work includes paintings, designs and illustrations. Comikid E-Man also owns a digital media company called Slacktivist Visions. The name of the painting is Grounded by Earth, Covered by Nature. The woman's name in the painting is Bella. Bella is Italian for beautiful. This symbolizes growth and new beginnings.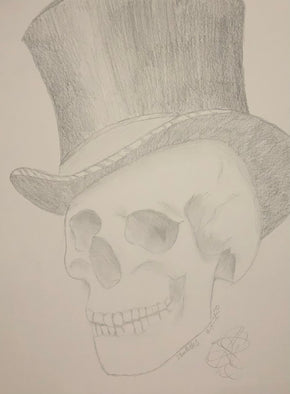 April 11th-April 17th, 2021
The Skeleton of 2018
Hello! I'm Katelyn, I'm from Denver, Colorado. This is a redraw I did of an original drawing of mine from 2018. Its special to me because of that, it showed my improvement over a 2 year period and I was incredibly proud of myself.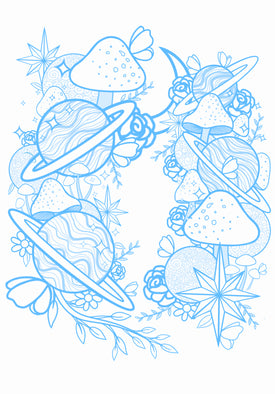 April 4th-April 10th, 2021
A Few of My Favorite Things
My name is Emma. I live outside of Washington DC, US. This art piece is named "A Few of My Favorite Things''. It is inspired by the Sound of Music soundtrack. In the song Maria sings about things that make her happy when she is sad or frightened .These are a few of the things that make me happy.
March 28th- April 3rd, 2021
Share Your Prayer: Pay Your Payer
My name is Tommy Cormier, I am an artist, musician and recording producer living in Brooklyn, New York.All my drawings mean a lot to me because the act of making them is therapeutic. It allows me to slow down and think. I don't like to get too involved in explaining what each piece means. I would rather allow the viewer's to do that for themselves. This piece is called "Share Your Prayer: Pay Your Payer"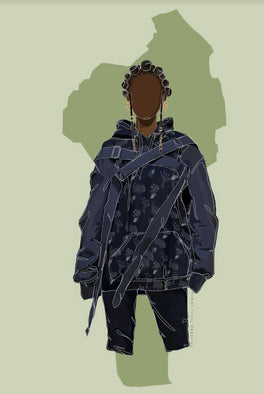 March 21st-March 27th, 2021
ABCs of AFRICA: 'B for Benin'
Marwa Talal, from Toronto Canada. Marwa's artwork focuses on uplifting women of colour, Muslim women and women of the African Diasopra. Her goal is to use her art to better represent those who are typically underrepresented. She is currently working on a series that explores Africa Ann's through visual storytelling, creates artwork as unique as the controls they represent in hopes to educate and inspire.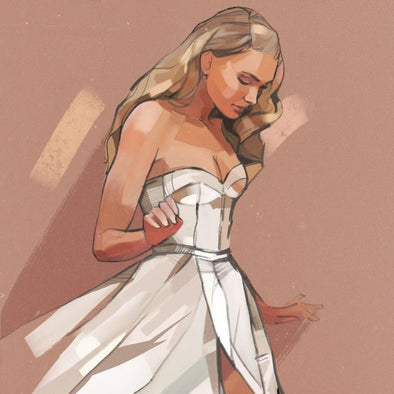 March 14th-March 20th, 2021
Hello! I'm Katya. I am from the small town Vyksa in Russia. Art plays a big role in my life. Firstly, this is what I am ready to do for hours, I do not save time for this. I studied to be an architect, but after university I realized that this is not what I am ready to devote most of my time to. I love creating Fashion illustrations. In the future, I want to be a fashion illustrator and develop in this area.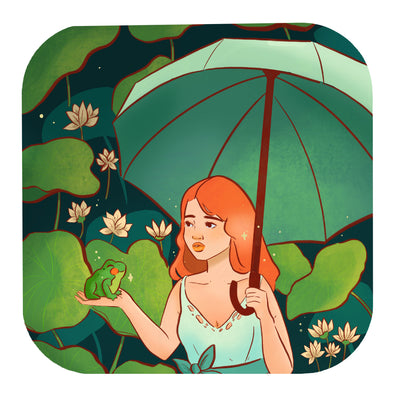 March 7th-March 13th, 2021
Summer Stroll 
My name is Rebeca Alvarez and I am an illustrator and designer originally from San Juan, Puerto Rico and currently based in Provo, Utah. My artwork revolves around simple and relaxing everyday scenes to whimsical dream-like scenes. I enjoy working digitally as well as painting traditionally with gouache and watercolor. This piece is an homage to a calm and rainy summer day a relaxing moment between a girl and her frog friend.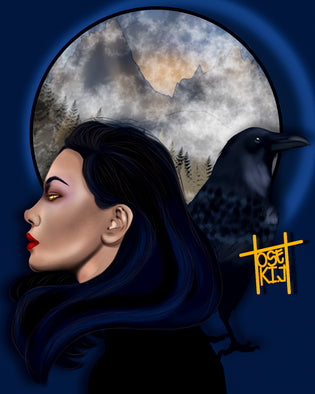 February 28th-March 6th,2021
Magayon
Hello, I'm Hoseki from Manila Philippines. I'm a college student who's goal is to be a successful artist someday. I've been in love to arts since i was i kid, being best in arts are the only skill and talent that I'm proud of and since then I've been pursuing my dreams in arts. And hoping one day, just one day I'll be one of those outstanding artist that have known in this Community. I called this piece "Magayon" from a Bicolano term, (a native language in the Southern Luzon, Philippines) meaning; "Beautiful" A beautiful Lady with a Raven, This art symbolizes Beauty, Fierce and Intelligent Women in our society. According to Norse Legend,  Raven is Symbolic of mind, wisdom. And so I think, we women are not just beautiful from appearance but also we do stand alone, proving that we are capable of anything. I just like the idea of empowering women, and supporting each other as we all rise above.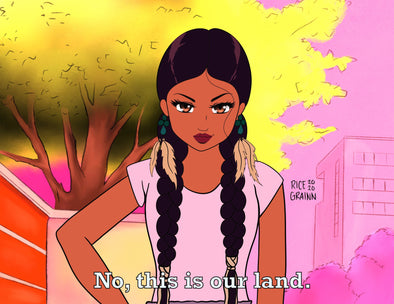 February 21st-February 27th, 2020
No, This is Our Land
My name is Kassandra Rice and I'm an artist based in Humboldt County in California. I was able to learn more about Indigenous cultures and peoples once I moved here for college and I believe it's important for Indigenous voices to be heard. As a Black artist who has also lost history and documentation of my creole background I want to be able to bring representation to where it's long overdue. This is why I created this piece titled, "No, This is Our Land"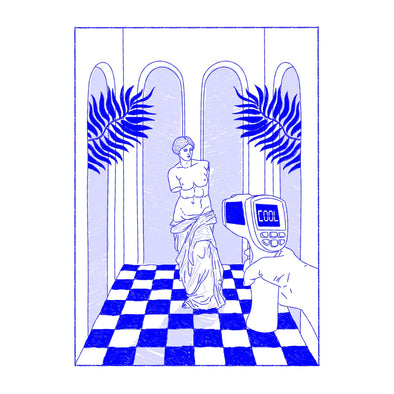 February 14th-February 20th, 2020
WE NEED MORE SPACE
Hello. My name is Dalila, but you can call me MONO. Blue is my obsession! I draw about ironic and awkward situations from everyday life, as the worldwide spread of covid-19 has been so far, and make it less serious. This is the example of my Venus of Milo, spending in solitude her quarantine, in a surreal dimension, without arms as we all know her. She will be fine, she won't touch anyone at least! She has been trapped in this room for weeks, but she is cool, she stays at home anyways.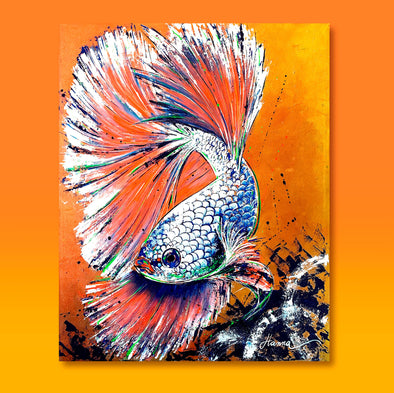 February 7th-February 13th, 2021
like fish in water
Hi, I'm Yohanna Albornoz, Artist and Graphic Designer from the city of Merida in Venezuela. I love nature from which we come from and also inspires me to make my work. My inspiration particularly come from the animals who for me are genuine and can convey many gestures, values and feelings with just a glance. I like to bring, through my art, to each place and to each person where I go, color, life and the best of energies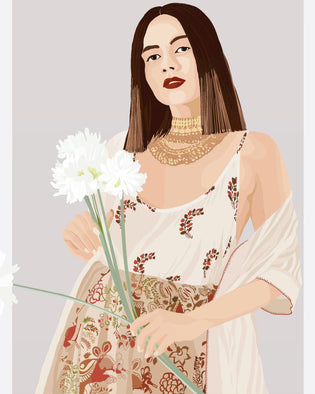 January 31st-February 6th, 2021
Wherever Life Plants You, Bloom with Grace
I am Tripti Srivastava an artist from Uttar Pradesh, Kanpur. I am a textile designer by profession and an artist by passion. I always had a love for art and drawing and started an illustration after lockdown.This art is a depiction of strong, independent, and boss babe women. Who creates her own life out of struggle and believe in reaching her goals with grace. The colors and texture give the feeling of a calm, powerful, and elegant attitude. This is a portrait of a famous Indian fashion influencer Komal Panday. She inspires lots of women through her inspirational journey and became a fashion icon.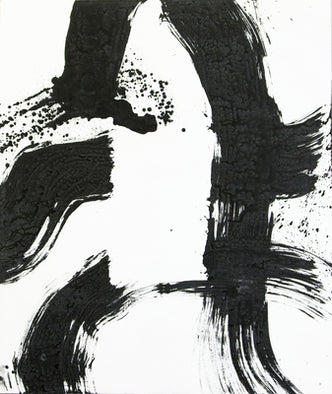 January 24th- January 30th, 2021
Talk Does Not Cook Rice
This painting is part of a group of works related to the Buddhist theme: "form is emptiness; emptiness is form". The title is "Talking Doesn't Cook Rice", a Chinese proverb. I paint, compose music, and organize a small dance company in New York City for which I sometimes choreograph
January 17th-January 23rd, 2021
Arise
My name is Rachel Wood, and I'm an artist from Salem, Oregon. My work is mostly focused on provoking mental and physical manifestations of emotion through abstract color, form and movement. "Arise" was created to represent the common sensation and energy that builds up in my own body, that is only relieved by painting. All my work is meant for you, the viewer, to have your own experience with it and notice what comes forward as you spend time looking at it.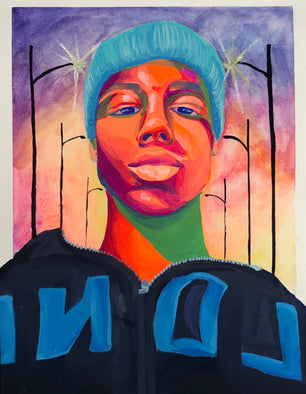 January 10th-January 16th, 2021
Before the Street Lights
My name is Camilla King and I am originally from Fort Lauderdale, Florida currently residing in Washington, DC. The piece depicted is a one of four painting series on the evolution and growth of Black males. This painting is important to me because it has allowed me to inspire my Black male audience and shine a light on their beauty and existence. The name of the painting is Before the Street Lights.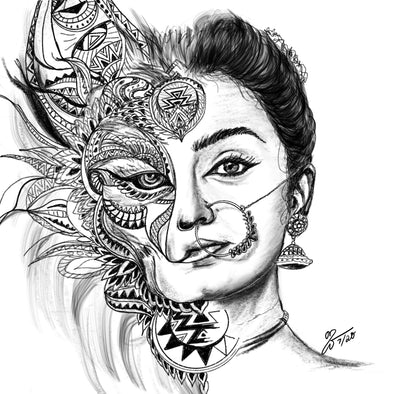 January 3rd-January 9th, 2021
Beauty & the Beast
This picture is a half face wolf & a half face woman (model-myself).. I drew this piece to show my support during the #blackandwhite picture challenge in Instagram. I made this art to say the message: "The strength of the pack is the wolf and the strength of the wolf is the pack."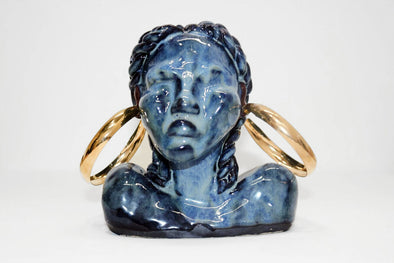 December 27th- January 2nd, 2021
Untitled (Bantu)
My name is Maya Beverly and I am a recent graduate of New York University, where I received a B.F.A. I am currently based in New York, and I consider myself a multi-disciplinary artist, who is primarily sculpture oriented. Much of my practice is informed by my interest in a wide variety of objects spanning from jewelry to ancient artifacts. Recurring themes in my work include the power of objects, the act of adorning, and societal expectations of beauty.
December 20th- December 26th, 2020
B&W #1
While working on a painting outside, I was thrown off course by a burst of wind, accidentally streaking paint across the canvas. It got me thinking about the wind as a concept, how it is invisible yet we can see its movements through other mediums, like tree leaves or water. This painting is an imagining of the wind's effects on nature.
December 13th-December 19th, 2020
Lady Liberty
My name is Deanna First and I am a NYC based illustrator specializing in Fashion + Beauty. I've been living out my childhood dream of being a full time artist for about 5 years now. :)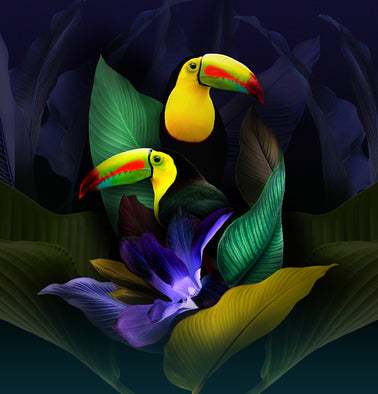 December 6th- December 12th, 2020
Toucans At Night
My name is Miriam Castillo and I am an experienced illustrator, graphic designer and muralist. Born in Mexico, I graduated as a Graphic Designer and am now based in between Brooklyn, New York and Mexico. I am fascinated by mysticism, and draw inspiration from my journey as a yoga instructor and the natural world. Since moving to a tropical area, I have the luxury of seeing seasonal wild toucans flying and posing on the trees. Now I'm kind of obsessed with them. This piece is just to honor their beauty and the freedom they represent.
November 29th- December 5th, 2020
Sunrise, Sunset
I was lucky enough to spend a few months of quarantine in the mountains in upstate New York. The epic sunsets and sunrises are what kept me inspired and motivated to continue painting and drawing. This piece is an abstract representation of some of the incredible shapes and colors I witnessed everyday.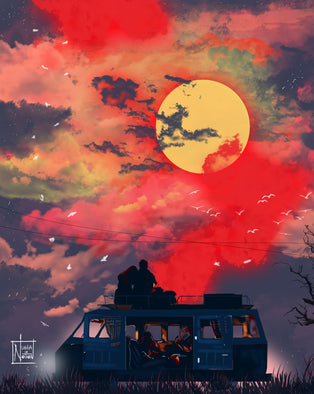 November 22nd-November 28th, 2020
Remember When
A piece of painting drawn during the pandemic lockdown remembering all those beautiful moments out in nature we used to be together with friends and buddies. I am a Concept artist from Dhaka, Bangladesh- an Architect by degree and a freelancer graphic designer by hobby. I draw out of passion and love mostly expressing environment blending human feelings and their imaginations.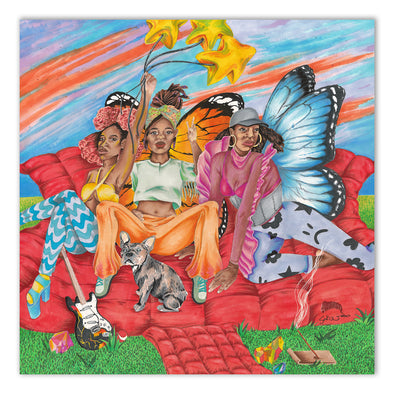 November 15th-November 21st, 2020
Jimi's Girls
This piece; like all of my works, are reflections of how I view the people in my community. So much of Black culture is rooted in innovation, determination and resilience as a means of surviving trauma. By portraying the polylithic nature of Black people with vibrant colors, restful expressions, and sympathetic activities my work acknowledges the duality of how life is experienced as a Black person.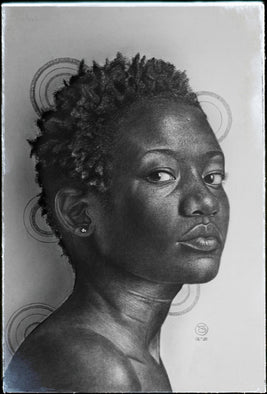 November 8th- November 14th, 2020
HEAL
My name is Samiat Ibrahim. I am from Lagos state, Nigeria and I love to draw.
The title of this artwork is "HEAL" and it was created for the purpose of spreading awareness. This is a little write-up I made to complement my artwork.
Distorted memories,
Distorted emotions, A lot forgot,
A lot buried.
Was there a time I ever felt genuine happiness?
I cannot remember...
Happy memories lost, but the pain remains.
I smile a lot but the void in me broadens.
When did it all start?
Even before I was a woman! Different faces, different times, different places, but I never said "touch me" to anyone, so why did you all? "NO!", but you pulled me closer."STOP!", but you touched me all over.
I struggled, but you overwhelmed me.
Overpowered by my fears.
Unable to speak.
I stare into space and hope the words unspoken could be seen through me.
I wish to cry,
I wish to scream,
I wish to let it all out.
But instead I choose to forget, move on and remain strong.
Dear self,
I really hope you heal.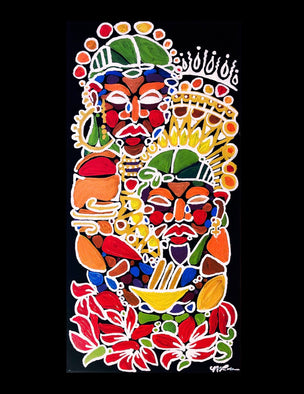 November 1st- November 7th, 2020
Durag
My name is Melanie Royster, I am an Artist and Designer here in PG County, Maryland. My work tends to be vibrant and eclectic due to my Caribbean background. This piece was done as my tribute to the black culture.
October 25th- October 31st,2020
The Beauty of Mother Nature
My name is Elaine and I'm from Sydney, Australia! This artwork was inspired by nature, and how beautiful Australia is. Australia is full of amazing flora and fauna.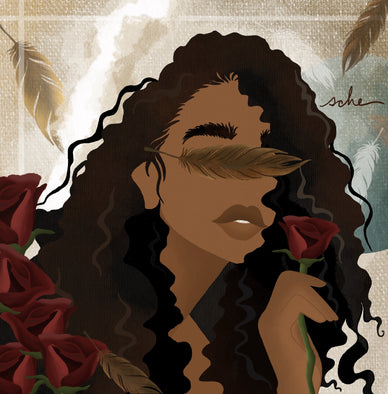 October 18th- October 24th,2020
Smell the Roses
I created "Smell the Roses" one day trying to cheer myself up. I found myself in a funk after graduating from college, Class of 2020, amid the pandemic. "Smell the Roses" is my personal reminder to count my blessings and to be thankful for my education. 2020 is a year I will never forget.
October 11th- October 17th, 2020
Sketchbook (Untitled)
On May 31st, 2018 I went out on my favorite thing to do in the morning, going on a long run before work. The unexpected part of the run was crossing the street and getting hit on my whole left side by a car. The damage is hard for me to even write about, my shoulder needed to be repaired, my leg was broken, and my left side of my skull was shattered. This car hit led to big surgeries, a week long coma, 2 months in a hospital bed and the worst was having my family seeing this disaster.
 I am very lucky to have great doctors take care of me in the first run which led me to 4 months of rehab to try and gain my old strength with a missing skull. My sister brought me my sketchbook to try and continue to draw, it was difficult but I never gave up. Once I have gained a lot more straight and normalcy I had my final big surgery, I had a new skull put into me. This was a major change and I continued to draw, which led to this drawing. The drawing is a face of a woman who is still not ready to see the continuation of getting things back together but she has an olive branch to show her that peace is back because I worked for 8 months with the help of incredible people to gain my life back. I am still so thankful and proud of this peace because it was the first drawing I felt confident about in a long time. Yes, I am still working hard to be who I was 2 years ago but the fact that I am able to live by myself again while being able to work on the issues is peaceful and thankful.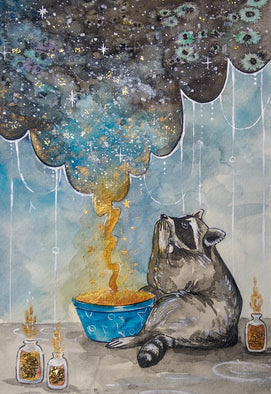 October 4th- October 10th, 2020
Magic
Hi. I'm Pogrebna Angela and I'm from Ukraine. I live in the suburbs of the capital. I want to share my work with people from all over the world. I like raccoons and space. And that's how this illustration was created.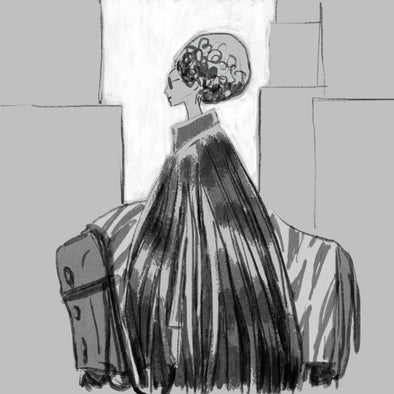 September 27th-October 3rd, 2020
Future Glamour
Tras trabajar como escultor y diseñador gráfico, ahora estoy experimentando con la ilustración como medio de expresión, explorando diferentes estilos y mezclando simbolismo con influencias del arte moderno y de la ciencia ficción. "Future Glamour" es parte de una pequeña serie que retrata a una mujer vestida de manera extravagante y retrofuturista.
After working as a sculptor and graphic designer, I'm currently exploring illustration as a means of expression, exploring different styles and mixing science-fiction, symbolism and modern art influences. "Future Glamour" is part of a little series depicting a woman dressed in an extravagant retro-futuristic fashion.
https://soundcloud.com/albertocatena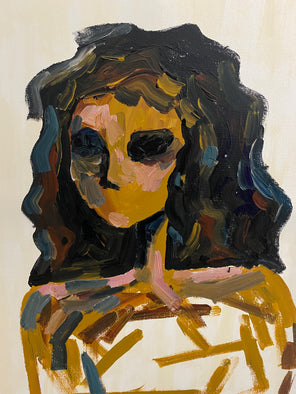 September 20th-September 26th, 2020
Misbelief
I use art as an outlet to release my thoughts and help cope with my mental battles. This piece is a separation of outward appearance and inward worth; a reflection that feelings stem from beliefs not circumstances.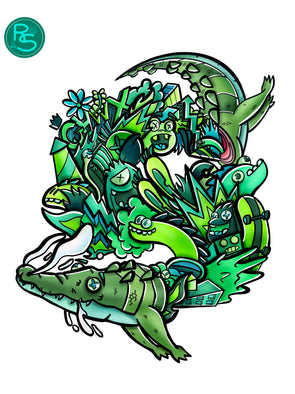 September 13th-September 19th, 2020
Crocodoodledoo
Hi!I I am Robosquidart,an artist who just loves to draw a lot of random stuff and crowd them all together aka "Doodles''.I live in Bangalore,India. So a little something about this piece-I love animals and I thought "Animals +Doodles" and bam! We got a crocodoodle!😜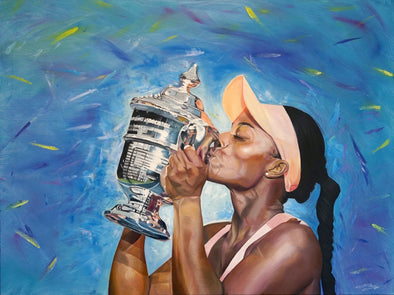 September 6th- September 12th, 2020
Ranked 83rd
I am Travis Turney, a 21 year old student-athlete and artist. This piece illustrates the 2017 US Open Champion, Sloane Stephens. She was ranked 83rd in the world leading up to the tournament, obviously, they got that wrong.
August 30th- September 5th, 2020
"Untitled"
My name is Ashley Chew, I am an Artist, Model and Activist based in New York, NY. My work focuses around Women of Color.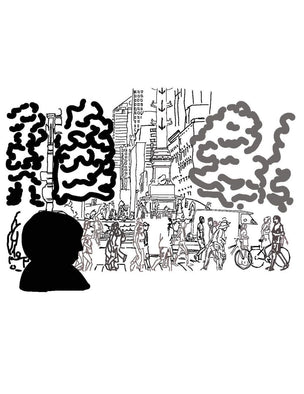 August 23rd- August 29th, 2020
This piece was created as an illustration for The Rumpus. I wanted to show the ways that people are able to connect with one another, and I also wanted to explore what it looks like for people to drift apart in relationships. I think that things often aren't static; interpersonal relationships definitely aren't. I tried to illustrate this in my piece, and I often think about how people relate to one another in both my art and my writing.
August 16th-22nd, 2020
Fans & Flora
When I went to visit Japan for the first time, I was really inspired by its traditional culture, especially the intricate details of their fans. I also wanted to include Japan's most famous flowers in the image, like chrysanthemums and cherry blossoms. I hope to go again someday to be inspired by even more!
August 9th-15th, 2020
Thumbnail Techniques
This is a page out of my sketchbook; it's a set of thumbnail drawings that were part of the planning process for a larger work focusing on developing my technique in perspective drawing. While the focus was on technical improvement, there were a number of ways I could go about it in my drawing. Thumbnail sketches like this one really help me visualize concepts in my mind.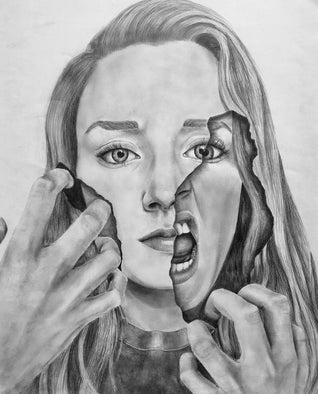 August 2nd-8th, 2020
Two Faced
Many times we are told to put on a straight face when we are upset or feeling very low. However, just beyond that 'everything is fine' facade, these feelings persist, and there comes a time when the emotions must show.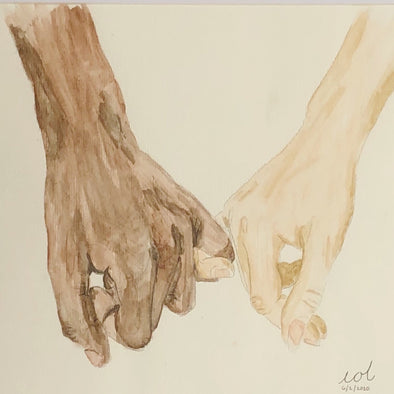 August 2nd-8th, 2020
Equality
This piece is titled "equality." I painted it in early June following the killing of George Floyd and the eruption of protests across the US. Painting this was a sort of self reflection for myself and a moment I wanted to commit to doing better. The "pinky promise" is symbolic of the promise I made to listen, learn, and support the Black community.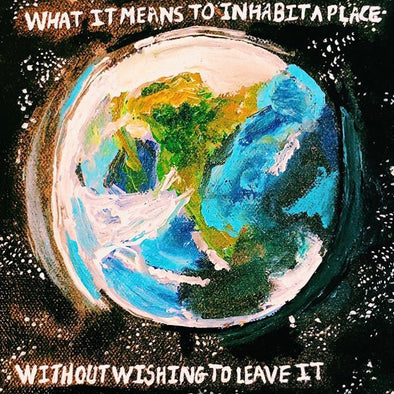 August 2nd-8th, 2020
I've always had trouble feeling satisfied in any one place. I always think that I'll be happier if I just go somewhere else, which of course is rarely, if ever, the case. My tendency to chase contentment has really controlled my life, and not in a good way.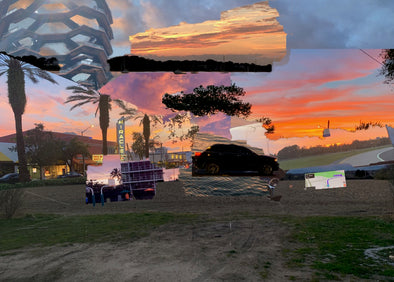 August 2nd-8th, 2020
Sunset Sky
 I struggle with the inability to live in the moment and appreciate the life around me. Growing up with access to technology has made me dependent on it in a way that I never deemed possible. I recognize in myself this utter dependence, yet I can't help keeping my eyes down and glued to the screen that dominates my life. The moment that I find myself genuinely appreciative of the world around me is at sunset. I appreciate the utter beauty of a perfect sunset. This piece represents my infatuation with sunsets. Although I have hundreds of pictures of beautiful sunsets on my camera roll, this mixed media piece I created encapsulates my favorite sunsets and the memories I associate them with. 
August 2nd-8th, 2020
My Father
I'm Celina Dubay and I go to the Parsons School of Design in New York City. I've always admired how my dad wears suits every day. I think it really speaks to his character and I wanted to replicate his aesthetic in a painting.
How to Submit Artwork
Calling all artists, photographers and creatives 🎨! Our digital art gallery is taking submissions and will feature a different piece of art every week - everything from photography to graphic design!
Rule 1: Please provide 2 sentences about yourself (your name, city and state) and a little about the piece!
Rule 2: Please provide your social handles!
Submit Via Social Media
If you post your art on Instagram, tag us in your work and use the hashtag #mezclasubmission so we can see it!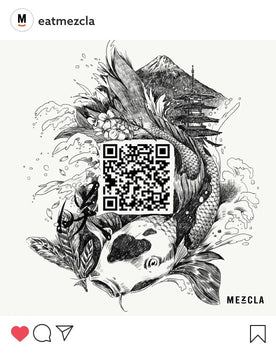 Email Us
You can send your art submissions to art@eatmezcla.com! Please use the subject line "[Your Name] - Mezcla Gallery Submission"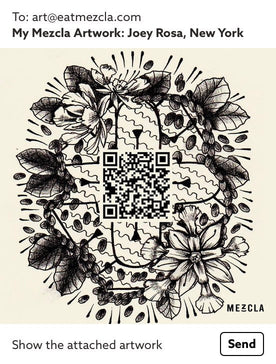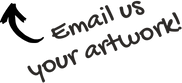 Featured Artist from Japan
Saki Murakami
As a Japanese artist I am honored to have designed this wrapper. I drew it integrating traditional Japanese elements that remind me of Matcha—as Matcha itself is very traditionally Japanese. These include Matcha leaves, Carp, Cherry Blossoms, Mt. Fuji, and a Japanese Temple. I also incorporated the Japanese character '咲' (to bloom), representing the blooming flavor of Matcha – it is also the character of my first name. I hope that customers who enjoy the flavor will also enjoy the package design!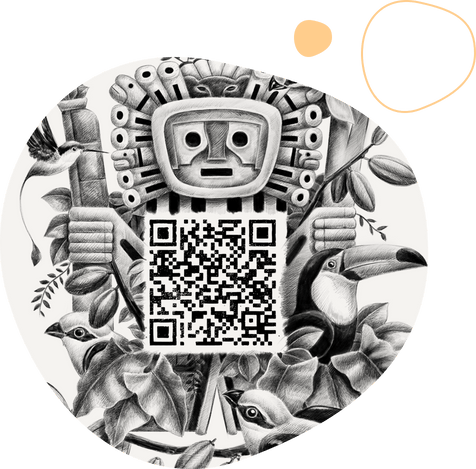 Featured Artist from Peru
Cesar Caycho
Cesar is an artist from Lima, Peru. He studied painting and graphic design at Catoloc University in Peru and is currently a teacher at the ISIL Institute and a resident artist of the Indigo Gallery. Regarding designing this wrapper, Cesar said "The whole illustration revolves around creation and life. The art depicts Wiracocha, the creator of the universe. In one myth, Wirachoca transforms into a beautiful bird, so I have also included birds and their flight as a symbol of freedom and dreams. The blue morpho butterfly is also endemic to Peru, characterized by their fabulous metamorphosis. So, I tried to show the abundance and wealth of our Inca culture."
Featured Artist from Mexico
Karina Desire Arceo Gonzalez
Karina Arceo is from Yucatan, Mexico. Since she was young, she always loved working with her hands. From sewing, to drawing, to painting, Karina started in the art world when she was 7 years old. One year before graduating from College, Karina started painting nursery walls for her friends and family. She felt like this brought her back to when she was a kid. From there, she started working on lager projects across different mediums – this marked the true beginning of Karina's career as a professional artist.